In the Summer of 2022, ChromaScape acquired CEL Chemical. Based in Piedmont, South Carolina, CEL Chemical is a manufacturer of adhesives, additives, modifiers and enhancers used in the corrugated industry. CEL Chemical's products allow manufacturers to create more-durable, waterproof corrugated board at higher throughput rates and with reduced waste.
We speak with Seth Tomasch, CEO, ChromaScape, discussing the reasoning for the acquisition and what the plans are for the future.
IPBI Seth, many of our readers will not know much about you guys. Can you give us some background to ChromaScape as a company.
ST ChromaScape was founded in the late 1990s and pioneered the colored mulch industry. We are headquartered in Cleveland, and we have manufacturing facilities across the U.S. The founder brought in a financial partner in 2018 to help drive additional growth and since then, we've made three strategic acquisitions, diversifying into printing and packaging, coatings, and consumer specialties.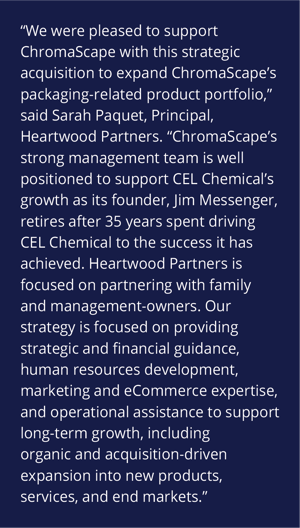 IPBI Tell us about the acquisition of CEL Chemical? Is this your first entry to the corrugated/packaging market?
ST This is not our first venture into the packaging arena. We acquired Greenville Colorants in 2020 which broadened our reach into the packaging space. We have a strong presence in the linerboard market, supplying Bismarck Brown to dozens of containerboard mills in North America. The acquisition of the CEL product line allowed us to move downstream into the corrugating market, which we see as a logical extension of our packaging focus.
We are excited to add CEL Chemical's products to our product line. Customers love these products because they help board plants run more efficiently and deliver improved product. ChromaScape's focus on quality, on-time delivery and customer service will support the continued growth of this highly differentiated product line.
IPBI Why did you feel CEL was a good fit for your company?
ST We have a strong process orientation at ChromaScape. During our due diligence, we saw that CEL Chemical has several innovative, patented products. They have realized consistent growth over the past five years, but struggled with making the leap from a start up to a recognized industry leader. We bring the discipline, supply chain expertise, commercial team, and financial strength that is necessary to take the product line to this level.
IPBI How have you found it getting to know the corrugated sector and the people/companies active in the sector?
ST Any business or market is a sum of its customers, and the corrugated industry is no different. I've met all our major customers and they are a smart, motivated group of experts. I'm most impressed by their depth of both operational and market knowledge. The leaders of these companies can pivot between production rates and detailed customer volumes without missing a beat. The operation teams are among the best I've seen, with excellent attention to detail and a ruthless focus on efficiency.
IPBI What changes have you implemented since your acquisition? Any significant changes in structure or people?
ST The biggest changes have occurred in the plant and back office. Operationally, we've beefed up safety training and quality control. Our customer service and supply chain teams have integrated the CEL product line into their daily routines. Our goal has been to increase the reliability and responsiveness of our supply and communication. Based on customer feedback, we've made a notable improvement in both. The sales team is expertly lead by Jimmy Holder, a long-time industry veteran. We've beefed up marketing and sales training. We are also hiring new reps on the east coast.
Our biggest change is the addition of a second manufacturing site. Our Piedmont, SC site is fantastic, but unfortunately it is located 3,000 miles from the west coast, where we do a good bit of business. Additionally, customers have voiced a desire for increased supply security that a duplicate site adds. Therefore, we are in the process of commissioning a new production line in our existing Kingman, AZ facility, which will be completed by the end of Q1. All equipment is on-site, permits are in-hand, and construction is on schedule.
Once up and running, this will allow us to significantly reduce lead times and freight rates for our west coast customers while adding surety of service with a second location. From both a geographic and environmental footprint standpoint, with the opening of this new capacity in our Kingman facility, we get closer to our customers throughout North America, and we reduce the miles covered by trucks for deliveries. It is a win-win for everyone.