Quality dyes help paper manufacturer improve products, operations
In 1999, Republic Paperboard opened a new papermill and started producing stronger, lighter gypsum paper for wallboard products. They worked with various colorant suppliers over the years, but were disappointed by the dye quality and technical support they received. Republic needed a partner who could produce high-quality standard and specialty colors while helping
them shorten the scale up to production. In 2013, they turned to ChromaScape for assistance and have been a valued and loyal customer ever since.
"The dye quality is more consistent, and that's why we've stayed with ChromaScape," said Barbara Russell, technical services manager for Republic Paperboard. "The other people always come calling, but we have a great relationship with the ChromaScape team, and the dyes have always been top quality, so that's kept us coming back."
CONSISTENT, TOP-QUALITY PAPER DYES
Republic Paperboard produces roughly 1,000 tons of liner paper per day that is laid over gypsum to create gypsum board, otherwise known as drywall. ChromaScape supplies a basic dye, Elcozine, for their standard brown liner paper, as well as pigments, Elcoment, for their specialty colored paper. Republic also uses an Elco fixative to ensure longlasting colorfastness. This is valuable because color can be very important for end-use customers in the field.
The color of paperboard can be an indicator to workers on site, designating the proper use of a particular product, such as mold prohibitive paper or paper specialized for elevator shafts. The right color ensures the right paper is used for the right job. Some customers also use the color as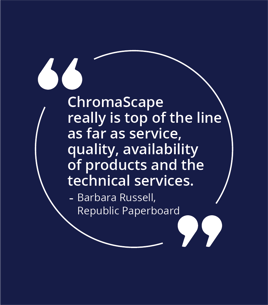 a branding element to separate their products from the competition. This is why consistency of color is so important, and why ChromaScape engineers work closely with the Republic team to develop the right custom mixture for each customer.
"Our customers don't want a color difference from one sheet to the other, or one part of the run to the other. So, consistency is important, and that's where ChromaScape comes in," Russell said. "We take the customer's color specification and ChromaScape blends that for us, and then we'll utilize that to make sure we have a consistent sheet for the customer."
Over the years, ChromaScape's work has assisted in reducing broke, and fast turnaround times have helped Republic meet customer needs quickly and consistently.
TECHNICAL CAPABILITIES BRING BIG BENEFITS
Russell said one of the biggest advantages of working with ChromaScape has been the technical
capabilities offered by the ChromaScape lab. Republic's customers will often send in paper samples, sometimes as small as half the size of an envelope, looking for a color match. ChromaScape's chemical engineers and materials can develop a spot-on color match. Even with formulation changes and different particular needs, Russell said the ChromaScape technical services always deliver exactly what is needed to complete the project.
"We use several different colors and we really haven't had any issues," Russell said. "We've been very happy with the technical services we've received."
Russell said the flexibility of ChromaScape's technical capabilities has helped improve experiences for Republic customers as well. One recent customer required a color match, but kept going back and forth on what they really wanted. The ChromaScape lab quickly formulated several different shades from light to dark to give the customer more freedom of choice.
"The lab did a real good job of giving us a variety of shades and letting our customer select what they really wanted," Russell said. "Sometimes customers change course mid-stream, so the team did a great job of putting that together and giving us some options."
CUSTOMER SERVICE THAT CREATES CONFIDENCE
In addition to technical services, Russell said she has always been pleased by the customer service
and support she's received from the ChromaScape team. She said not only are the account and
customer service representatives extremely knowledgeable, but they work quickly to solve problems and deliver fast turnaround on orders. "We've had a good relationship and the team is
really willing to get things taken care of quickly," Russell said. "ChromaScape has been very good
at addressing any kind of questions or issues that we've run into."
Russell said she knows she can count on the ChromaScape team to be there for her whenever needs arise. Having such a reliable and trusted partner helps bring confidence and consistency to
Republic's paper manufacturing operation.
"I know they're just a phone call or an e-mail away," Russell said. "It's a great relationship that helps us get our work done quicker, because timeliness is always critical."
LOOKING TOWARD THE FUTURE
Republic Paperboard is currently developing a new product line that uses a coated sheet instead of fiber. As development progresses, Russell said they will look to the ChromaScape team for assistance in developing new formulas for new types of dyes. But for now, Republic will continue to enjoy the consistent quality of ChromaScape's dyes and service.
With nearly 40 years in the papermaking industry, Russell said she has worked with many different colorant suppliers for a variety of applications. But one thing is certain: ChromaScape stands out above the rest.
"ChromaScape really is top of the line as far as service, quality, availability of products and the
technical services," Russell said. "That's what makes us stay with ChromaScape."
Want to enhance your paper products with high quality dyes and colorants?
Contact ChromaScape to learn more about our full line of paper dyes and colorant solutions.