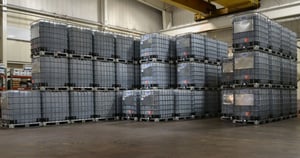 If you're a producer who uses mulch colorant to create colored wood fiber, aggregate or rubber, you're probably all too familiar with the large totes that we use to ship Amerimulch commercial colorants and additives. And as a business owner, you're also concerned with keeping costs down as much as possible and getting the most value from your raw materials. This is where it pays to be mindful about how you handle totes, also known as intermediate bulk containers (IBCs). By optimizing the way you mix, empty and recycle your totes, you can save money and get the most value out of mulch colorants.
Mixing mulch colorant
Just like a can of paint you'd buy to spruce up your living room, mulch dye needs to be properly mixed before use. Mixing is key to keeping your colorant evenly blended because the longer you store colorant, the more pigment will naturally settle on the bottom of the tote. That's why we recommend mixing your colorant every 90 days, at a minimum. A mixing stick attached to a hand drill will get the job done, but using a power tote mixer is ideal for making the process faster and easier.
Taking a few extra minutes when mixing your material on the front end (and during tote clean-out on the back end) will help improve efficiency and provide a real cost savings.
Here's a quick step-by-step guide for mixing colorant and getting it ready for use:
Step 1: Open the tote by unscrewing the top cap.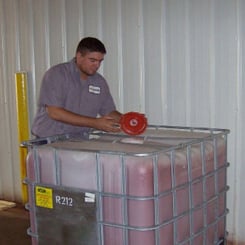 Step 2: Mix the material well for at least 15 minutes, using a tote mixer or other tool.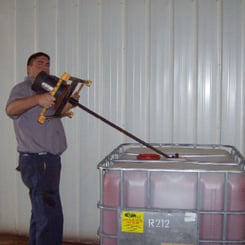 Step 3: While mixing, pay special attention to the corners. Proper mixing ensures an even distribution of pigments throughout.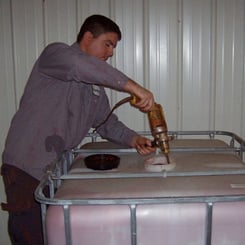 Step 4: Connect the hose to the valve spout. Open the valve and you are now ready to start coloring mulch.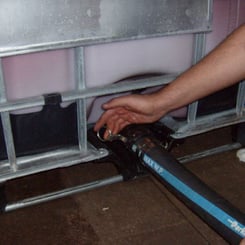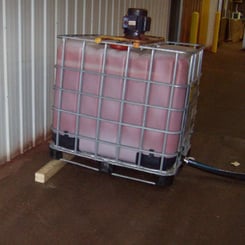 PRO Tip: When the tote is nearly empty, raise the tote to a downward angle to force all the material to the spout end. This will help you get as much colorant as possible out of the tote so you don't waste money on your raw materials. Just be sure to change to a new full tote before the first one runs completely empty so you can minimize downtime during your coloring process.
Our colorants are specially engineered to optimize viscosity, which helps ensure more volume and better coverage. Improved viscosity also creates better pigment suspension, which minimizes the "sludge" effect from settling in containers. This is why no other colorant on the market mixes as easily or as quickly. That said, you still need to mix it to get the most vibrant color and even coating during application.
Emptying your totes
While the majority of the mulch dye will drain out on its own, you still need to take some steps to make sure your tote is fully empty and ready for disposal. The process is fairly straightforward, but it's important you take the proper steps or you could face costly fees from your tote removal service.
Here's a quick guide for emptying your tote:
Step 1: Use a hose to rinse out any remaining colorant from the tote, immediately after the tote has run empty.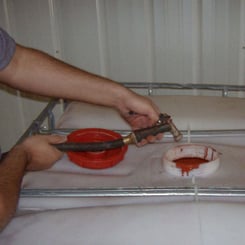 Step 2: Once the tote is thoroughly rinsed, drain any remaining colored rinse water into a pail or into the next tote to conserve raw materials.
Step 3: Recap the empty tote, top and bottom, and store it until you have at least eight totes that are ready to return.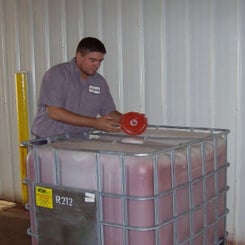 PRO Tip: Most IBCs are designed to be stacked so you can save space in your facility until the used totes are ready for pickup.
Recycling totes
Because of their size and the environmental regulations, you can't throw totes away when you're done with them. Instead, arrange for pickup of empty totes by calling a tote container company. Companies like Schuetz offer a tote recycling program that takes the burden off your shoulders. However, totes must be in an acceptable condition or you could incur costly fees.
To be considered acceptable, totes must be returned in full compliance with all DOT, TDG and EPA regulations, including the following:
At minimum, totes must be "drip-dry" empty (no more than 1 gallon of product in bottom of tote; no liquid comes out when the valve is open)
All closures must be in place and valves must be closed
Totes must be in good physical condition
Properly mixing mulch colorant and handling large totes with care won't require much effort from your personnel. But by following these guidelines, you can ensure the most even coating, get your money's worth on raw materials and avoid costly fees, ultimately providing a boost to your bottom line.
Ready to supercharge your mulch coloring processes? Contact ChromaScape today, or request a sample to see our amazing Amerimulch colorants for yourself!