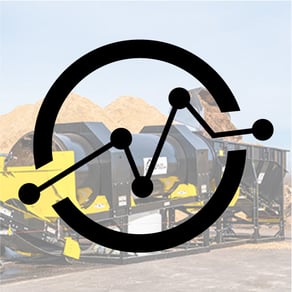 There's no question that in the digital age, data is king. For years now, economists have said data is worth more than gold or oil. But what is it worth to your mulch production operation? Many colored mulch producers rely on a few key performance indicators (KPIs) but struggle to capture data in a way that makes sense for their needs. That's because their mulch coloring equipment doesn't give them the ability to track production in real time or view data at a granular level. Thankfully, there are now better alternatives that can help mulch producers get a better handle on costs and optimize production rates. Here's how a technology upgrade that yields more actionable data could lead to better financial performance for your business.
Chasing data after the fact
Every seasoned colored mulch producer has a pretty good idea of how much water and colorant they need to use to create their desired finished product. But for many producers using old equipment, collecting and analyzing the actual hard data only really occurs after production is finished. Based on the amounts used, producers can then calculate colorant application rates, water application rates and total production rates.
This approach works in the short-term, but it leaves producers unnecessarily vulnerable to variability in the production process. For example, how do all those production and application rates change with different types of fiber? What if you want to switch to a new type of colorant? How does production differ in the cold days of early spring compared to the middle of summer?
Answering these types of questions can be difficult and may require a lot of manual work if you're using outdated machinery. In the big picture, not having insights into this type of data inhibits long-term planning and can limit future growth. But an upgrade to new mulch coloring equipment can put you back in the driver's seat with a proactive approach for optimizing your mulch coloring process.
Taking complete control of colored mulch production
The Amerimulch ColorTrom 400 has the technology upgrades to make colored mulch production easier and more profitable. Namely, it is the only mulch coloring equipment on the market that features Marksman technology. With the Marksman, you simply input your desired production rate in yards per hour, a water application rate in gallons per yard and a color application rate in pounds per cubic yard. The system then automatically measures and adjusts all production variances, including water and colorant levels, in real time. This helps eliminate errors and ensures you are using the least amount of water and colorant while still achieving the consistent, full-color finished product you want.
More than that, the Marksman system also stores historical data in batch form with totals that can be easily exported for your records. That kind of continuous data storage allows you to optimize production and achieve cost savings in your operation. You can also compare data on a season-by-season basis to aid with long-term planning. When you are armed with better data, you can make more informed decisions that affect the health of your business.
Check out our related blog post, How to Choose the Right Mulch Coloring Equipment for Your Operation.
Better data, better control, better performance
When it comes down to it, if you don't have good data, you won't be as profitable as you otherwise could be. The ColorTrom 400 with Marksman technology can help producers achieve the data visibility you need to accomplish your performance goals. Instead of relying on after-the-fact manual data collection, consider an equipment upgrade that will enable the insights and optimization you need to take your business to the next level.
Ready to upgrade your mulch coloring equipment? Contact ChromaScape today to learn more about the ColorTrom 400 and how our premium mulch colorant can help improve the financial performance of your business.