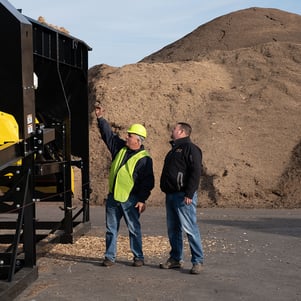 A typical mulch production company may work with a dozen vendors or more to procure everything from office supplies to business software — and of course, mulch colorant. But some vendors bring more value to your business than others. When it comes to your mulch colorant supplier, the value shouldn't end with the colorant itself. At Amerimulch, our experienced sales representatives act more like consultants than salespeople because we are truly dedicated to helping you succeed. We work to be real partners, conducting on-site visits, offering insights on process improvements, training opportunities and more. Here's a look at who we are and how your Amerimulch representative can add tremendous value to your mulch production business.
Reps with real experience
Amerimulch regional sales reps understand how to add value to your business because we've been in your shoes. Collectively, our team spent many years working on the production side of the industry in mulch yards across the country. So, we know what it takes to produce colored mulch efficiently and profitably. Our industry knowledge and experience are a true value add for our partners, allowing us to identify opportunities to make your colored mulch production process more efficient.
Our regional sales reps act as your dedicated point person to ensure timely delivery and exceptional service. But we do a lot more than just process orders for colorant. We work to get to know your business and use our industry expertise to help elevate your operation in a number of ways.
On-site coloring equipment support
One of the biggest value adds our reps provide is helping to ensure your mulch coloring equipment is running as efficiently as possible. Our reps routinely visit our partners' sites to help calibrate coloring systems and measure key mulch production metrics. We can verify hourly production rates and colorant application rates, as well as providing training on all coloring systems operations. We'll also supply tools and other support so your staff can achieve your production cost targets.
Amerimulch reps can explain the importance of using "as little water as possible" during the coloring process to staff and train them on best practices to achieve this important goal. After all, a finished colored mulch product that shows proper coverage and color will look the same whether you used 10 gallons of water per yard or 20 gallons. That extra water is detrimental to profitability and performance of the finished product. Our reps can provide this kind of employee education to ultimately make your staff more knowledgeable and more valuable to your operation.
Employee safety education
Production site safety is the top priority of every responsible mulch business leader, which makes it our top priority as well. Amerimulch representatives can provide safety education for operating mulch coloring equipment and make recommendations on how process improvements or equipment upgrades could improve worker safety. Most importantly, we will encourage and re-enforce all safety protocols to your organization's standards, acting as another layer of accountability to help ensure all of your team members stay safe.
Sourcing fiber through our partner network
Amerimulch is proud to work with mulch producers across the United States and has built partnerships with companies big and small throughout the industry. In some instances, our sales reps have been able to lean on these relationships to help our customers locate wood fiber during challenging periods. While sourcing fiber may not always be possible, we will work to find creative solutions to your most pressing challenges and do what we can to help your business succeed.
Dedicated to helping you succeed
Some mulch colorant suppliers deliver just that, colorant and an invoice. But with Amerimulch, you don't just get another vendor. You get a true partner and a dedicated agent who is committed to helping you improve your business and achieve your goals. Our experienced sales representatives put their industry knowledge and experience to work, helping mulch producers not only procure high-quality mulch colorant, but the service and support they need to increase production efficiency and improve their business.
Looking for a colorant supplier that truly enhances your mulch production business? Contact Amerimulch and ChromaScape today to get started.